Latest News
Vote Yes for MASSPIRG
MASSPIRG is a student funded, student directed, non-profit advocacy organization that wins real results in the public interest.  Students at BCC have voted to fund MASSPIRG with a $9 per student per semester waiveable fee since 1983.  We pool those resources with other campuses across the state, and use it to hire a professional staff of organizers and advocates to work with us and on our behalf to win victories that improve people's lives.
Every two years here at BCC, students have the opportunity to re-affirm their support for MASSPIRG.  Make sure you Vote Yes from April 25th-27th by dropping by the SGA Voting Tables in the Susan B. Anthony Student Center Lounge Wednesday through Friday!
MASSPIRG Gets Results
Americans have more problems than we deserve and more solutions than we use.  This is the powerful idea that MASSPIRG was founded upon.  For nearly 40 years we have combined the power of student activism, citizen action, and professional research and advocacy to make change.
We work some of the most pressing social and environmental issues, ranging from reducing dependence on oil, to protecting consumers, to promoting participation in democracy.  Special interests will always work to make sure their voices are heard loud and clear, in city hall, the state house, and congress.  Through our work we make sure the voices of citizens are heard even louder and clearer by giving thousands of students and citizens the opportunity to stand up and speak up.
Accomplishments
MASSPIRG has achieved tangible victories on the issues we face today as a state and a nation.  Here is just a brief list of what MASSPIRG has accomplished this year:
Increasing Recycling in Massachusetts:
MASSPIRG students are working to improve recycling by updating Massachusetts' 5-cent deposit on beer and soda bottles to include water, juice and sports drinks. We made big waves at the statehouse by collecting and delivering 10,000 signatures asking the state legislature to update the Bottle Bill.
Advocating for 21st Century Transportation:
This year MASSPIRG released a report, "Common Connections" showing that students and seniors depend on and benefit the most from public transportation.  Students held press conferences around the state promoting the report, which advocates for more and better public transportation.  Amidst the MBTA transit crisis, we've collected personal stories from students about how cuts and fare increases would affect their lives and presented the stories as public testimony to transit officials.
Fighting Poverty in Our Communities:
In these tough economic times, more than one in ten people in the Commonwealth is living in poverty. So this year, MASSPIRG students redoubled their efforts to educate and serve the communities where they live, learn and work. As part of our annual Hunger and Homelessness Awareness Week, Bay State students organized educational and service events to bring their campuses together to tackle one of the most persistent and pressing problems of our time. Across the state, over 300 students participated directly in educational events, and MASSPIRG students collected thousands of dollars and hundreds of pounds of food items to donate.
Making Textbooks More Affordable:
Everyone knows that textbooks costs are out of control—the average student spends $900 per year!  We're promoting cost-saving solutions on campus while also tackling publishers' stranglehold on the market to change prices for good.  MASSPIRG students joined the Textbook Rebellion, a national tour to raise awareness about the high cost of textbooks and affordable solutions. The tour collected 10,000 petition signatures and was featured in 100 news stories.
Making Higher Education More Affordable:
MASSPIRG students joined students from across the country to reduce the burden of student loan debt by capping students' monthly loan payments and stopping aggressive cuts to Pell grants, the federal financial aid program that serves more than 9 million students.  At the end of March students participated in the effort to prevent the doubling of student loans by delivering over 130,000 letters to decision makers in congress.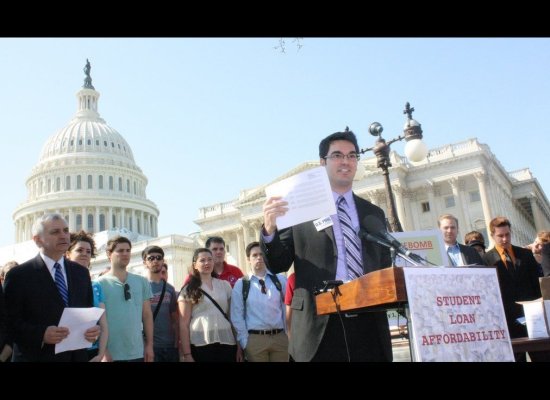 Protecting Consumers:
The marketplace can be daunting even for the most educated consumer.  That's why MASSPIRG students across the state continue MASSPIRG's proud tradition of making consumers aware of dangerous products. This winter, we released our 26th-annual Trouble in Toyland report to help parents avoid toxic chemicals, choking dangers, and noise hazards in toys.
BCC
At BCC students raised almost $400 across Berkshire County for the Berkshire Food Project in North Adams as part of the Hunger Cleanup project, in addition to collecting almost 50 non-perishable food items for donation.  They also collected photo petitions to increase awareness about public transit issues, and collected petitions to ban plastic bags in Pittsfield and across Massachusetts.
Internships
Work on important issues, learn valuable skills, get hands-on experience, and make a difference.
Blog Posts by Campaign
Newsroom